4 pm at the Starbucks near the Germantown Mall in Memphis. The time and place have not changed since 2001. As is always the routine, I arrive a few minutes early and get a seat near the window. As I see her walk towards the store, I head out to open the door for her.
In the late 90s, the US immigration authorities had opened their doors for her and her family to enter this country as refugees from the Middle East. Sincere thanks to them, for I have known her since our undergrad days in Memphis. It was in 2001 that I moved out of Memphis. And every time I return there to visit my parents, the meeting with Awaz is the one inflexible appointment on my calendar.
We order our teas and settle into our chairs.
She looks at me for an extra fraction of a second and says, "You look healthy."
I smile at the observation and reply, "You've lost a ton of weight. Are you enjoying your yoga sessions?"
"Oh yes, I am."
As we pick up our teas, the conversation shifts to my wife Nandu, who couldn't join me on that trip.
"So, how is Nandu doing?" she asks.
"She is good. Since the last time we came here, I think she is much happier. You can ask her if you'd like!"
Her smile reaches her blue-green eyes and her sigh of relief is definite, even audible!
***
On our previous trip to Memphis eight months prior, Nandu had taken Awaz into confidence and shared with her a few details of our arguments and squabbles, seeking her advice. The root cause had been my inflexibility and tendency to impose my value system and beliefs on Nandu.

It had been a rather delicate balancing act for Awaz. She said to Nandu – in my presence, I might add - "You both mean a lot to me. You might feel sad and disappointed with his recent behavior. But just remember that he is a good guy. Both of us know that." Awaz then turned towards me, looked at me intently and said, "You are my best friend. So, I am going to take the privilege to tell you what you could do differently. I am even okay if you get angry with me. But I feel it is my responsibility. You have to see things more from her perspective…" And she proceeded to tell me in the sweetest, most polite manner that I was being incorrigible!
In the period between the two trips to Memphis, there were several instances when arguments would be nipped in the bud because Nandu would gently remind me of Awaz's advice. And for her part, Nandu began to cut me slack because of Awaz's suggestion to be a tad more patient with me.
***
4:25 pm.
As we indulge in our marble loaves, I rib her, "Remember, you and Nandu gave me a 10/10 for how good a friend I am and a 6/10 for how good of a spouse I am to Nandu! How about revising that score, Philosopher?"
('Philosopher' was the nickname that I had coined for Awaz during the previous trip!)
"Hmm, I'll have to ask Nandu if she would give you an 8," she says gleefully. And to rub it in, adds, "Maybe an 8.2 - how about that?!"
"That's so generous," I quip.
After we confabulate for a while, it is time to leave. As we walk out of the store, I feel heavier than usual, not really wanting to bid goodbye. I should actually be feeling light, I tell myself. I had acted on some well-meaning advice from a dear friend and as a result, my wife is quite happy. So am I.
As we hug each other, she says, "Please tell Nandu that I am so happy for the two of you."
I choke a little and faintly respond, "Sure. Do visit us in Philly."
As I drive back to my parents' home in Memphis, thoughts about Awaz flood my mind like the aftermath of a broken dam. I realize that the heaviness that I had felt a little earlier was the result of my feeling overwhelmed with a sense of gratitude for a friend that understands me deeply. So deep that she had made me introspect and realize that a relationship rooted in non-judgmental behavior and sprinkled with generous doses of empathy will lend a protective shadow when things heat up.
Akin to the predictable cadence of waves on a balmy Spring day at the shore are the vibes of understanding from a genuine friend. Sure, there are things that must be completely private between a husband and wife. But there are times when a voice of reason from a caring soul can sometimes be that wave that touches you, urging you to securely hold your partner's hand, while washing away any feelings of rancor.
I then pick up the phone, intending to ask Nandu if she would give me an 8.2! We talk for a few minutes. For some reason, the question feels unnecessary. And I leave it at that!
******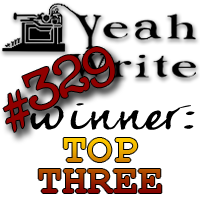 I am pleased and honored to have gotten into the top three list in this week's non-fiction grid. Sincere thanks to everyone that voted for me.